Youth in Government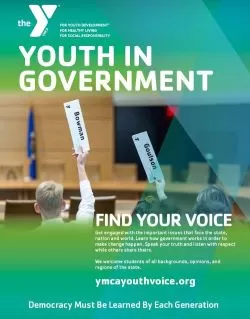 Students will be able to participate in an incredibly realistic and complex simulation of Minnesota state government. Approximately 1,600 students in grades 8-12 take part in the Youth in Government conference every January. They get the opportunity to serve as legislators, judges, attorneys, lobbyists, and cabinet members, media representatives, or introductory Leadership Corps. members.
2022 Conference Dates: January 6 - January 9, 2022
For more information, click here for the Youth In Government brochure.
The Northfield Family YMCA Delegation Director is Krista Danner. If you have any questions, please contact her at info@northfieldymca.org, or 507-645-0088.