Northfield YMCA Youth in Government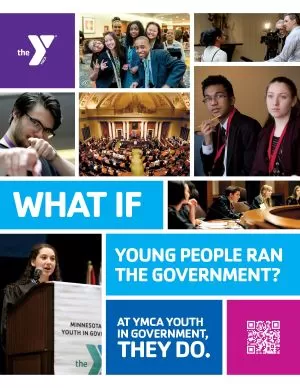 In partnership with the YMCA of the North and the YMCA Center for Youth Voice, Northfield sends a delegation annually to two major Youth Government Conferences: Youth in Government (previously called Model Assembly) and Model United Nations. These conferences encourage students to find their voice. Delegates spend their days debating passionately with their peers, and then spend evening activities making new friends from around Minnesota and Western Wisconsin. having civically engaged students in our communities is so important, and why we believe fully in the YIG motto:
"Democracy must be learned by each generation"
Youth In Government Informational Sessions:
Monday, September 26 - Time: 6:30 p.m.
Monday, October 3 - Time: 6:30 p.m.
Location of sessions: Northfield High School, Room H124
2022-23 Important Dates:
Registration Opens: September, 27, 2022
Launch Online Convocation: November 5, 2022
Registration Closes: November 15, 2022
Youth in Government Conference: January 5-8, 2023
*Note: Informational sessions and delegation meetings will be scheduled soon - please continue to check back for updated information.
Delegation 2022-23 Steering Committee
These students work year-round to recruit students, run delegation meetings and attend special statewide retreats to make sure YIG is always student led.
Committee Chair: Paige Mier
Committee Vice Chair: Charlotte Flory
Secretary: Ella Hegland
Committee Rep: Connor Percy
Committee Rep: Margaret Muth
Committee Rep: Miles Martig
Northfield at Youth in Government:
This past January 41 Northfield students participated in the annual Youth in Government conference at the Hilton in downtown Minneapolis and the State Capitol in Saint Paul. A 75-year-old tradition in Minnesota, Youth in Government recreates the state government, complete with a bicameral legislature, executive branch, trial, appellate and Supreme Courts, lobbyist program and a multi-platform media branch. Special thanks to all the YMCA volunteers in Northfield, advisors, and student leaders for making this even possible.
Pictured below: Youth in Government Conference Attendees