MAKE A DIFFERENCE
From helping with special events, working with children, coaching or mentoring, custodial work, to serving on the Board of Directors or a Y committee, your skills and interests will make a difference here. Volunteering is more than just sharing your time and passion, it's about the satisfaction of knowing you are helping people become stronger, giving back to your community and gaining valuable work experience that will enhance your career opportunities.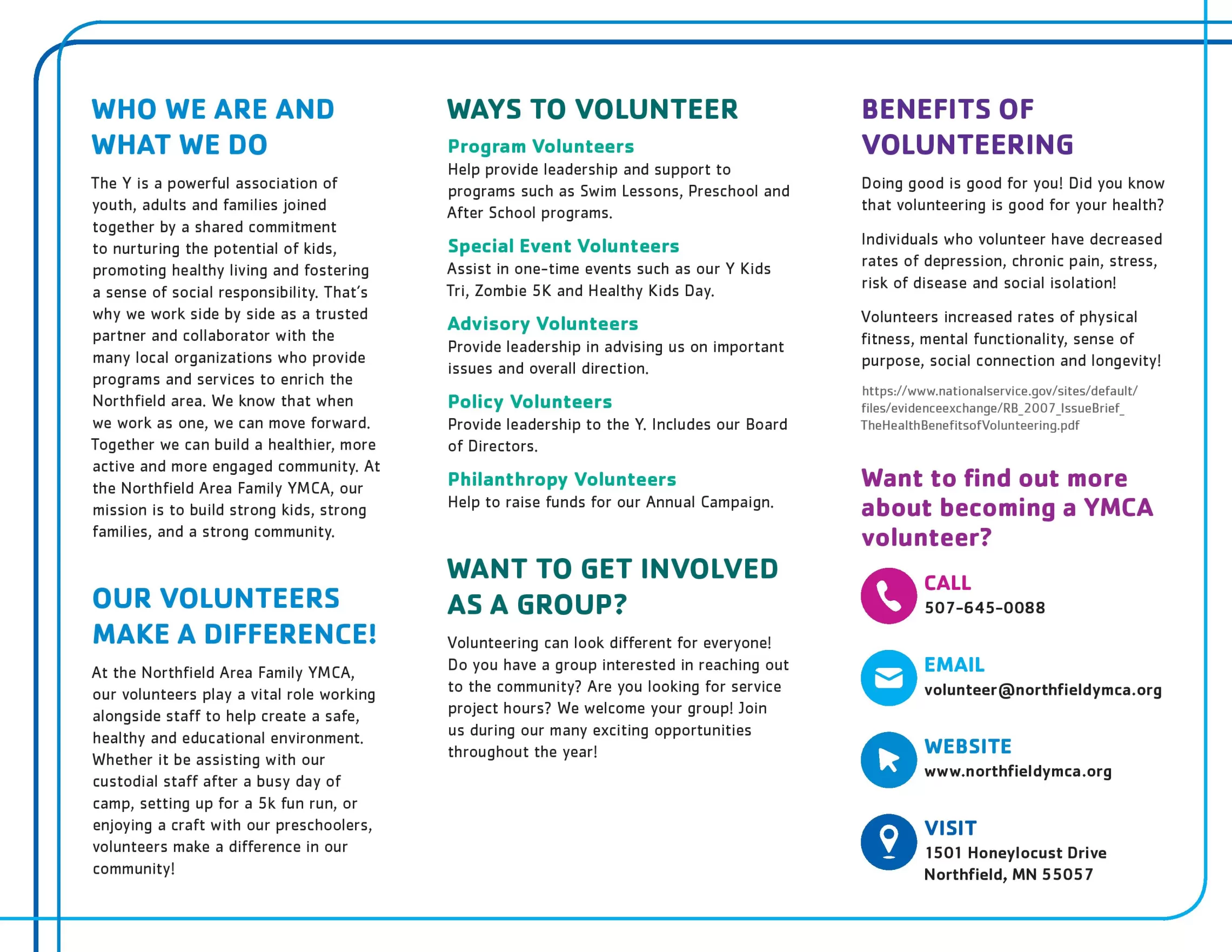 Take an active role in bringing about meaningful, enduring change right in your own neighborhood! Ways you can help:
CHILDREN/YOUTH
Child Watch (drop-in childcare)
Preschool programs
Youth sports – programs for youth ages 2-15
Elementary-age after school programs
Kids Night at the Y – one night a month – FUN times with kids!
Middle school programs
Swim lessons and programs
Summer camps and programs
SPECIAL EVENTS
Zombie 5K 
Jingle Bell Run/Walk 
Family Events
ORGANIZATION ASSISTANCE
Fundraising campaigns and events
Board of directors & committee involvement
Flyer distribution & mailing preparation
Spanish translation for publications
Landscaping & custodial
All Northfield Area Family YMCA volunteers working in programs or services must complete a criminal background check.
To Apply Please Fill out a Form Below
If you are interested in volunteering at the Y, please fill out the Volunteering Form and send it to us at info@northfieldymca.org
If you are interested in serving as a YMCA Board Member or YMCA Committee Member, please fill out and submit the Application
Past Volunteer Board or Committee Members
Amy Acheson, Communications Committee
Nancy Antoine, Service Quality Task Force
Dennis Berry, Finance Committee
Cheryl Buck, Board Development Committee
Stephanie Calderon, Y Giving Committee
Kerstin Cardenas, Human Resources Committee
Katie Coudron, Fund Development Committee
Kurt Coudron, Fund Development Committee
Jason Dandle, Website Task Force
Matt Detert, Finance Committee
Missy Donkers, Board Development Committee, Capital Campaign Advisory Committee
Gretchen Ehresmann
Nate Engle, Treasurer
Krin Finger, Groundbreaking Committee
Kevin Fink, Finance Committee
Blair Fowler, Construction Committee
Pam Galle, Finance Committee
Annie Hauskins, Communications Committee
Bryan Hoff, Capital Campaign Advisory Committee
Mary Hoff, Gatherings Committee
Kelly Irvine, Communications Committee
Tim Jackson, Website Task Force
Nate Jacobi, Service Quality Task Force
Chris Kennelly, Construction Committee
Sheila Kennelly, Gatherings Committee
Nathan Knutson, Construction Committee
Sara Koehler, Groundbreaking Committee
Mike Lehmkuhl, Website Task Force
Jodi Lundell, Human Resources Committee, Murial Team
Amy McBroom, Groundbreaking Committee
Betsy McLaughlin, Groundbreaking Committee
Emily Monaghan, Capital Campaign Advisory Committee
Pat Murtha, Construction Committee
Tracy Nelson, Finance Committee
Rita Olson, Gatherings Committee
Jessica Organ, Website Task Force
Jim Pokorney, Capital Campaign Advisory Committee
Susan Pokorney, Service Quality Task Force
Zach Pruitt, Board Development Committee, Service Quality Task Force
Mari Radtke, Groundbreaking Committee
Leah Rich, Communications Committee
Pete Sandberg, Construction Committee
Christopher Sawyer, Capital Campaign Advisory Committee
Jennifer Sawyer, Board Development Committee
Angie Tanghe, Human Resources Committee
Allison (Ally) Thorkelson, Gatherings Committee
Linda Thornton, Capital Campaign Advisory Committee
Sarah Van Sickle, Website Task Force, Gatherings Committee
Fran Windschitl, Finance Committee
Y Kids Tri and Youth in Government Volunteers
Mike Allen
Laura Kay Allen
Kelly Foster
Andrea Hoff
Anne Lehmkuhl
Sally Lindell
Amy McBroom
Angie McCarthy
Kristy Mikula
Marilyn Nelson
Michele Reese
Anna Lisa Rustad
Erica Staab
Leah Sand
Linda Thornton
Mark Thornton
Mari Aylin
Paul Beaumaster
Missy Donkers
Jeff Eckhoff
Kris Estenson
Krin Finger
Kevin Fink
Amy Gohdes-Luhman
Regi Haslett-Marroquin
Andrea Hoff
Bryan Hoff
Nate Jacobi
Megan Kraby
Ricky Livingston
Efren Maldonado
Emily Monaghan
Emily Morsching, Youth Board Member
Pat Murtha
David McBeain
Zach Pruitt
Mike Puppe
Lee Runzheimer
Christopher Sawyer
Jennifer Sawyer
Christopher Sorenson
Candy Taylor
Suzette Taylor
Linda Thornton
Mark Thornton
Gary Wicks
Jorge Zuccolotto
Lisette Salgado, Youth Board Member