Apply and get hired as a lifeguard prior to the certification course and the YMCA will pay for your certification!
Our facility offers American Red Cross Certifications throughout the year.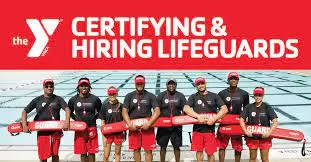 American Red Cross Shallow-Water Lifeguard Certification
Blended learning Lifeguard courses require an estimated 7 hours of online work to be completed prior to the in-class portion. 
A physical pre-test will be given on the first day to ensure participants are able to complete the following:
Swim 100 yards continuously demonstrating breath control and rhythmic breathing. Candidates may swim using the front crawl, breaststroke, or a combination of both, but swimming on the back or side is not allowed. Swim goggles may be used. 
Tread water for 2 minutes using only the legs. Candidates should place their hands under their armpits. 
Complete a timed event within 50 seconds

Starting in the water, swim 20 yards using the front crawl or breaststroke. The face may be in the water or out of the water. Swim goggles are not allowed. 
Submerge to a depth of 4-5 feet to retrieve a 10-pound object. Return to the surface and walk or swim 20 yards to return to the starting point with both hands holding the object at the surface of the water.
Exit the water without using a ladder or steps. 
CPR/AED/First Aid Certification
 Blended learning CPR courses require an estimated 2-3 hours of online work to be completed prior to the in-class portion. Registration closes 1 week prior to the course to allow time for the online content to be completed.