YMCA Healthy Kids Day 2022:  Celebrating Healthy Kids
August 27, 2022; 9am-Noon 
Location: Northfield Area Family YMCA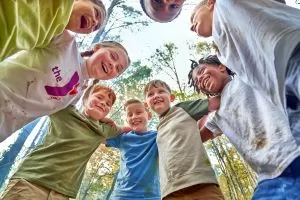 The Northfield Area Family YMCA will host Healthy Kids Day 2022 on August 27th, from 9am-Noon. Our annual free community event celebrates kids being kids, and aims to inspire kids ages infant - grade school to keep their minds and bodies active as we head into fall. YMCA Healthy Kids Day also helps families identify resources and develop routines that support mental and physical health throughout the school year.
This year's activities are in the planning stages, more information to come. Last year's YMCA Healthy Kids Day activities included a Fun Run for parents and kids, drawings for prizes, safety vehicles, scores of interactive booths hosted by community organizations, bounce houses, balloon creatures, sports and the arts, and much more.
YMCA Healthy Kids Day Community sponsors and table hosts are vital partners in the success of this vibrant event. Sponsorship opportunities for community organizations and business partners are limited and available on a first come, first served basis. Sponsorship details will be available in May.
Watch this space for updates about YMCA Healthy Kids Day 2022. For more information or to join our mailing list, please contact Deb at 507-645-0088 or deb@northfieldymca.org
2021 Healthy Kids Day Sponsors
Thank you to our 2021 Healthy Kids Day Sponsors!
| | |
| --- | --- |
| Alina Health Clinic - Northfield | Northfield Dance Academy |
| Community Resource Bank | Northfield Golf Club |
| Cub Foods | Northfield Gymnastics Club |
| Division Street Dance | Northfield Hospital + Clinics |
| Family Fare | Northfield Just for Kix |
| Fred the Bear Band | Northfield Police Department |
| Girl Scouts of River Valley | Northfield Soccer Association |
| Healthy Community Initiative | Northfield Swim Club |
| Heritage Dental Care | Northfield Youth Choirs |
| Just Food Co-op | Project Friendship |
| Minnesota Orthodontics | Rice County Area United Way |
| NNS Preschool | Rice County Public Health |
| Northfield Area Scouts  -  Boy Scouts | Rice County Sheriff's Office |
| Northfield Area Fire & Rescue Services | River Valley Eye Professionals |
| Northfield Arts Guild | Schieck Orthodontics |