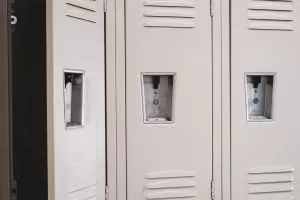 Lockers are available for daily use by members and guests. Please bring your own lock and remove it at the end of each visit. The Y is not responsible for theft or damage to your property. It is not recommended that you leave valuable property in your locker at any time.
Effective March 1, 2023: If you leave a lock on a locker when you leave the facility, the Y will consider your property abandoned. Locks will be cut from lockers and abandoned property can be recovered at Member Services. Lost and found items that are not claimed will be donated to a local charity.
Locker rooms are frequently monitored by Y Staff. Please report any suspicious behavior to a Y staff member.
Comfort for all.
Taking photos or filming while in the locker room is not permitted.

Please use our private family/special needs locker rooms (located in the next hallway) if you are with children of the opposite gender over age 3, or if you need a baby changing station