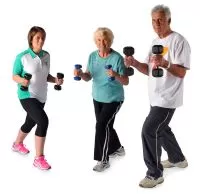 SILVER & FIT
The Silver & Fit program provides Medicare Advantage beneficiaries, including group retirees, with a broad, next-generation fitness program. It gives members the choice of a fitness center membership from a participating fitness center, different home fitness kits, or a wearable fitness device, depending on the program purchased.
The Northfield Area Family YMCA participates in this program, allowing all approved Silver & Fit members to have access to the Y and all its amenities free of charge. Your membership dues are paid for by a negotiated reimbursement to the Y from your Health Insurance company.
Finding out if you are eligible for this program is easy! Print out the Silver & Fit Inquiry form below, fill it out, and return it to the Member Services desk at the YMCA. A member of our Admin team will contact you regarding your eligibility within 3 to 4 business days.
Silver & Fit Membership Form
Please fill out the form and submit it to the Front Desk.